Santa's Got A Sunburn - Sorrel The Christmas Drink of Barbados
14th December, 2011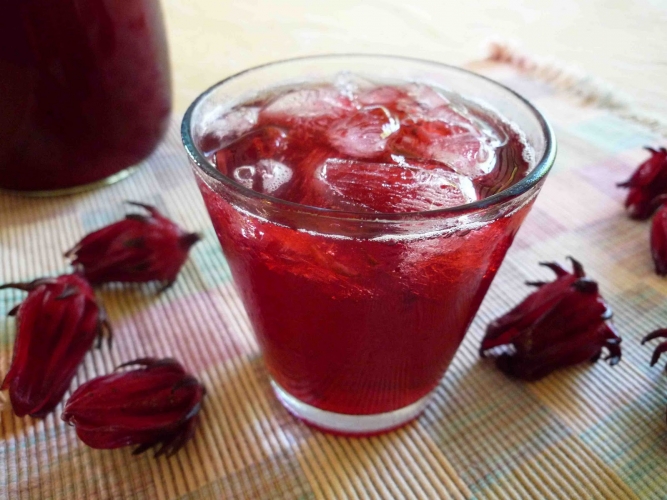 For the next few weeks in December Loop Barbados has decided to do a "Santa's got a sunburn" segment. This segment will include different Barbadian and Caribbean Christmas traditions which we are proud to share. Our first feature- the one and only sorrel. Sorrel is a  maroon in colour fruit which grows on a shrub. When this fruit  is soaked in water a pleasant tasting and vibrant red juice is produced. This is a Christmas tradition in the Caribbean and especially in Barbados, as no Christmas soiree is complete without it. In addition to its great taste, sorrel contains a wide range of vitamins and minerals such as Vitamin C, calcium, niacin and riboflavin. It also contains flavonoids which give the fruit its deep maroon colour and are known as powerful antioxidants for the body.
Take a look below for the famous sorrel and sorrel liqueur recipe!
SORREL DRINK
2 lbs Sorrel (cut, washed and drained)
4 pints of boiled water (use hot)
1 stick spice and a few cloves.

2 lbs sugar (mix to taste, use less if you do not like it too sweet). Leave Sorrel to soak in water with spice and cloves for 24 hours then pour off and add sugar to taste.
SORREL LIQUEUR
4 lbs Sorrel (cut, washed and drained)
1 Pint Gin
1/2 Pint Barbados Rum
2 lbs granulated sugar
3 gills (15 ozs.) boiled water, cooled.

Steep (soak) sorrel in gin and rum for 1 week, boil sugar and water until fairly thick.  Drain off liquid from sorrel and add to syrup. Store in bottle and keep for at least 2 weeks before using.  Really nice after 3 months.