Santa's got a Sunburn: Great Cake
19th December, 2012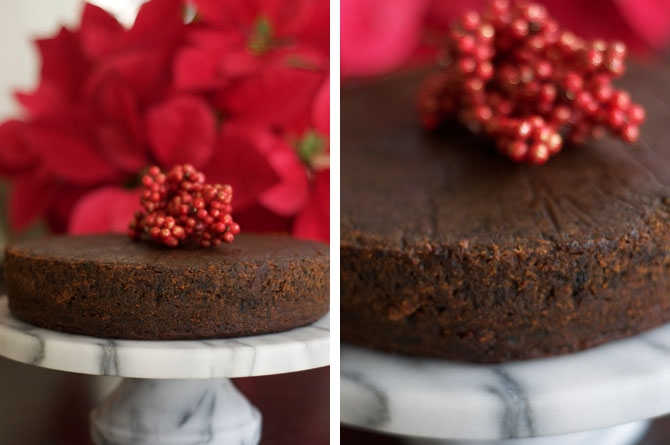 Great Cake is one of those Christmas desserts which you will see in every Barbadian's household during the month of December. Also called Christmas Cake or Black Cake, Great Cake really signifies a part of our Bajan Culture. Originally, the cake was once referred to as the British Plum Pudding or Christmas Figgy Pudding but with the inclusion of Barbadian rum and a few other ingredients it is now known as the famous Bajan Great Cake. The cake is made up of many fruits such as cherries, raisins, prunes and of course rum (we just love to add it to everything don't we). In order to get a 'good and hearty' Great Cake you must soak the fruit in rum so it absorbs all of that good golden essence. Usually Bajans will start preparing for their Christmas cakes 2-3 weeks in advance so they can really get that "rummy" fruit flavour which makes the cake all the better. In Barbados, Great Cake is made for special occasions such as Christmas, birthdays, weddings and anniversaries. This cake can be stored up to 2 months in a cool place. Take a look below for a recipe for Bajan Great Cake:
For Fruit Mixture:

3/4 cup candied citron, diced

1/2 cup candied orange peel, diced

3/4 cup candied cherries

4 cups raisins (mix golden and dark)

2 1/2 cups currants

1 cup dates, chopped

1 cup cooked prunes, chopped

1/2 cup almonds, toasted and chopped

2 1/2 cups dark Bajan rum

For Cake:

2 cups all-purpose flour, sifted

2 tablespoons baking powder

1/2 teaspoon cloves

1/2 teaspoon cinnamon

1/2 teaspoon nutmeg

1/2 teaspoon allspice

1/4 teaspoon salt

1 cup unsalted butter, softened

2 cups dark brown sugar, firmly packed

5 large eggs, at room temperature
Instructions
For Fruit Mixture:
Combine all ingredients. Fruit mixture can be minced or chopped according to liking.

Make sure that the rum covers all of the fruits. Add more as necessary.

Refrigerate or store in a cool place, lightly covered for four weeks or more.
For Cake:
Preheat oven to 300 degrees F.

Sift flour with baking powder, cloves, nutmeg, cinnamon, allspice, and salt; set aside. 

Cream butter. Add sugar and beat a few minutes. Scrape bowl occasionally with wooden spatula during beating. 

Add eggs one at a time, beating at medium speed. Make sure that eggs are thoroughly mixed and incorporated into mixture. Increase speed to high and beat until light and fluffy - about three minutes. You may add a small piece of lime or lemon peel while mixing to eliminate rawness of eggs. Remove peel from mixture when thoroughly mixed. 

Re-sift half the flour mixture and add to the butter mixture and blend thoroughly, using lowest speed of mixer. 

Now add mixture to soaked fruits while adding the additional flour. Stir with wooden spoon to blend thoroughly. 

Butter two 9-inch loaf pans and line with buttered parchment paper. Spoon batter into pans. 

Place a small pan half-full of water on bottom rack of oven for first hour of baking to keep cake moist. Bake at 300 degrees F for 2 to 2-1/2 hours or until cake tester comes out clean.

Cool in pans, then invert on baking rack. Remove paper. Sprinkle with rum to moisten, then let cake dry and cool. 

Store in airtight container. This cake can last for months if moistened occasionally.
Happy Baking!