Cooking Bajan Style: Fish Cakes
15th August, 2012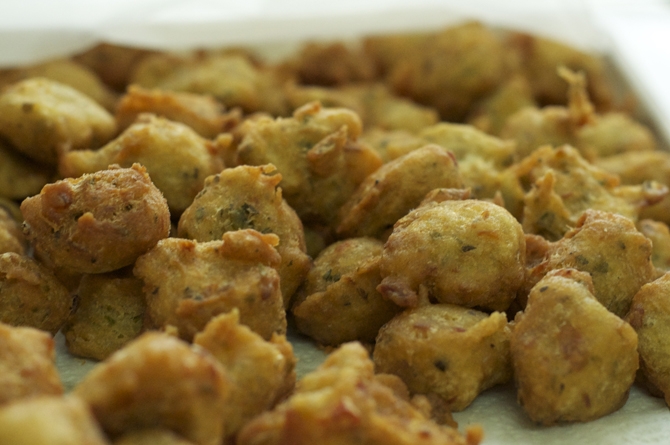 When first time travelers visit Barbados and look at various menus throughout the island an option they will almost always see are "Fish Cakes". However, in most cases their minds are instantly transported to a circular, flat potato like cake popular in the U.K. Nonetheless, Barbadian fish cakes are nothing like these English appetizers. Rather Barbadian fish cakes are delicate, tasty balls filled with air, moisture and not to mention salt fish (salted cod) and bajan seasoning. They melt in your mouth and taste even better with a Marie-rose sauce which so perfectly complement the fish cakes' kaleidoscope of flavors.  Found almost anywhere on the island, (from five star resorts to off the beaten track rum shops) it is no doubt that fish cakes are one of the most popular foods in Barbados, and the great news is you do not have to be a chef to make them. Below is a simple recipe which will allow you to have your fish cakes anywhere, any time of the year!
BAJAN FISH CAKES
2 tbsp oil
1 cup onions, finely chopped
1 cup flour
1 tsp baking powder
Salt to your taste
1 egg lightly beaten
¾ cup milk
1 tbsp butter, melted
2 tbsp Bajan Seasoning
½ lb, salted cod fish, cooked and flaked
1 large fresh hot pepper (finely chopped)
In a heavy frying pan, heat the oil and sauté the onions until they are just wilted. Place flour, baking powder and salt in bowl. Make a well in center and pour egg, butter and milk. Mix together lightly, add the onions, Bajan Seasoning, salted cod fish, salt and pepper. Stir well. Drop by tablespoon full into hot oil, but do not crowd them in the pan.