Top 5: Budget Lunches on the South Coast of Barbados
12th February, 2016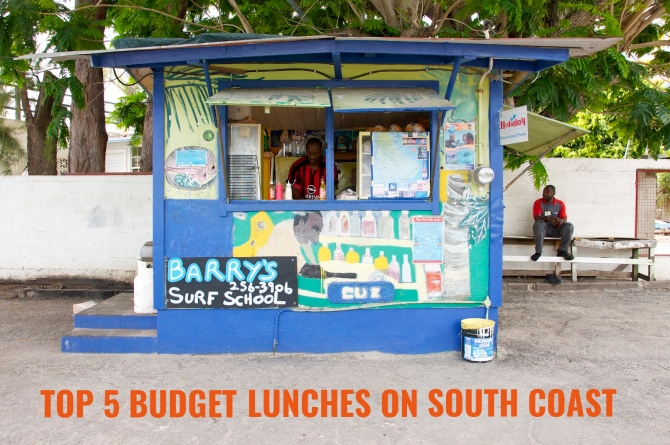 When travelling many people look for delicious food which is reasonably priced. We have listed our Top 5 budget lunches you can find on the South coast of Barbados. 
1. Cuz Cutters: By now most people who have been to Barbados before know of Cuz Cutters. Well if you have never heard of this little shack which serves fish cutters- then you need to try it! You can have any cutter combination you wish from fish, egg and cheese to fish and cheese to egg and cheese ranging between $3.00- $5.00 USD. Order a banks beer to go with your cutter and go sit on the beach opposite. Cuz Cutters is located at Pebbles Beach, very close to the Hilton hotel. 
2. Mama Mia Deli & Pizzeria: Mama Mia is an Italian deli located on the South coast of the island which has many good lunch specials, including their Italian Deli Experience. Check them out here. 
3. Doubles: These are little tents and stands set up on the side of the road which sell doubles (curried chickpeas in a bake like skin). Doubles are originally from Trinidad and known as Trinidadian cuisine but the Bajans also thoroughly enjoy them. A doubles is about $2 USD- we suggest you order two! This stand is located at the bottom of Rendezvous Hill next to Trimart. 
4. Sahara Arabic Grill: This stall is located in Bayside Plaza, Bay Street St. Michael. They offer a wide variety of super tasty Arabic food. From falafel wraps to chicken kebab wraps to platters, there is definitely something for everyone. The hummus wrap is only $5 USD and the chicken wrap is about $8 USD. All their food is made fresh right in fronr of you, so you may have a slight wait! 
5. Chefette: This is our local fast food restaurant which you can only find in Barbados. Here is a fun fact for you; we have more Chefette restaurants on the island than number of parishes. There are many fried chicken meals to choose from, along with burgers, rotis, pizza etc. Chefette offers a great deal of a drink and roti/pizza for under $5 USD. This is a quick option as you can drive through and collect your meal! Try the chicken breast sandwich!