Top 5: Places to Eat Vegetarian in Barbados
17th November, 2015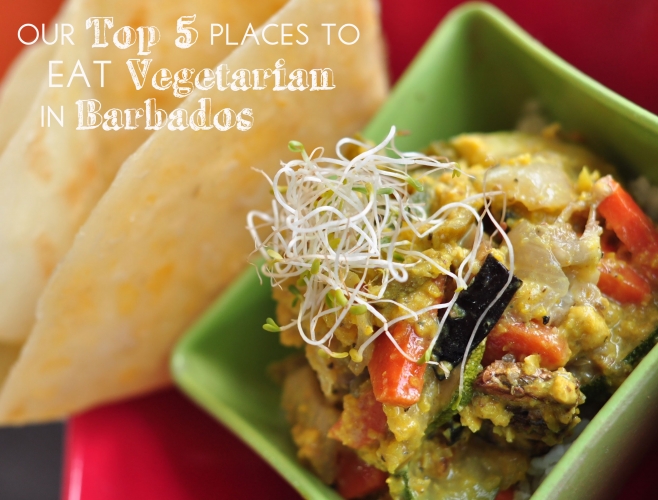 You may think that Barbados does not have much vegetarian options for you to choose from but you can definitely find your fair share on our island. Whether it be at a high end restaurant, a cafe or at a stall on the side of the road, there are some very delicious options to choose from.
We have outlined our top 5 Vegetarian places to eat in Barbados

Barbados Vegetarian Restaurant 1.  The Tides Restaurant
This restaurant will be a higher end option for vegetarian food but absolutely delicious if you ask us. In the season they are open for lunch and dinner and offer an extensive vegetarian menu with options such as spicy green Thai vegetable curry served with basmati rice or the divine mushroom and white truffle oil risotto. What could be better than dining alongside the Caribbean Sea and devouring sumptuous dishes.

Barbados Vegetarian Restaurant 2. Artsplash Centre
Artsplash is located on the South coast of Barbados and is a casual and popular place to get some super delicious food. They are only open for lunch and offer simple vegetarian bowls such as a creamy avocado bowl and garden salad bowl. Along with their vegetarian food you can pick up a fresh juice from the juice bar. On Wednesdays and Sundays, they also have a farmer's market called Hastings Farmers market where you can hand pick local fruits and vegetables.

Barbados Vegetarian Restaurant 3.  Relish Epicurea
Relish, with two locations, one in Limegrove Lifestyle Centre and one in Simpson Motors creates some fun fusions of vegetarian dishes. From their power salad with edamame & walnuts to their quinoa bowls with roasted veggies and feta to their Vegetable Korma; there is something for everyone. Relish is open for both breakfast and lunch!

Barbados Vegetarian Restaurant 4. Sitar Restaurant
For those who enjoy Indian food; this is a great option for vegetarian dishes. Located in Second Street, Holetown, they are open for dinner or you can order take away. From curried lentils to onion bajhis to vegetable samosas; all packed with flavor and spices.

Barbados Vegetarian Restaurant 5. Cafe Moya
This small café is located on the West coast of Barbados and has a large selection of wraps, crepes and sandwiches. They also have much gluten free options available as they do make cassava crepes and bread. Another plus is they have complimentary Wi-Fi if you need to use it!