Restaurant Review: The Tides Restaurant Barbados
29th November, 2012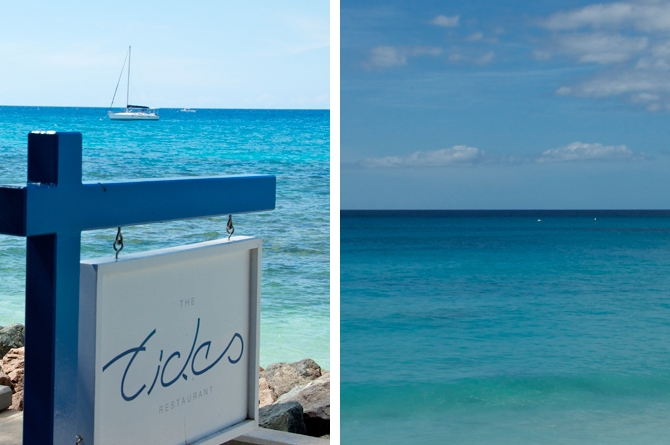 Since they recently opened for lunch, last week Melanie and myself decided to pay The Tides Restaurant a friendly visit. In the mood for good food with a view we thought this would be good choice considering The Tides Restaurant is rated the #2 restaurant in Barbados on Trip Advisor. Owned by Guy and Tammie Beasley (Executive Chef and Managing Director respectively), the couple opened the The Tides Restaurant 12 years ago and it has successfully stood up strong to the tests of time. Guy, Tammie and their loyal team have perfected the knack of hospitality and culinary work so very gracefully and added that element of personal touch which is critical to rival competing restaurants.  Guy's infamous and edible works of art sustain an even higher standard on the pallet. The service was just the right balance. There once was a time when dining involved a lot of interference, now people just want to sit, let go and enjoy one another's company; not be harassed by pompous sommeliers and 'watched' by pretentious staff.  Modern guests now want the real thing, for example the design of a restaurant is more important than showy this and showy that. He/she wants a space where they feel well and wanted, not looked upon or rather at. The Tides Restaurant is chic and stylish with extraordinary and very interesting cuisine, not to mention its very implausible view. Now come inside with us and experience it for yourself.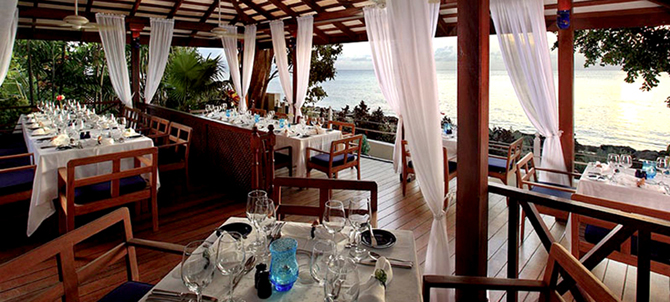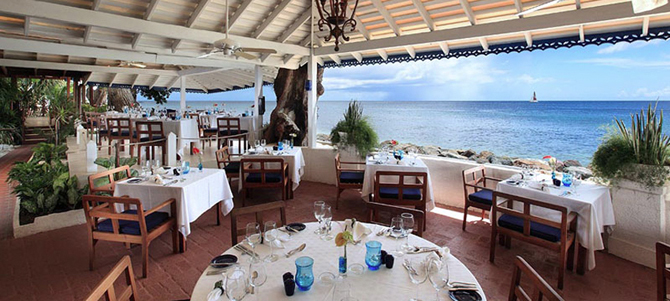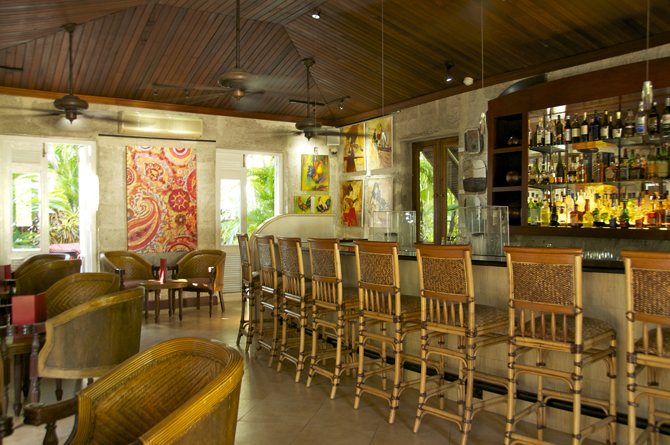 Greeted and welcomed by the convivial and, not to mention, immaculately dressed valet, Melanie and I were directed inside where Tammie Beasly – owner and managing director – graciously showed us to our table. Walking through the charming, old-world coral stone building filled with local art was unusually refreshing. Our table was perched a couple feet from the shore side and as we sat the blues in the ocean seemed to get a little bluer, what a perfect day we picked to enjoy lunch at The Tides Restaurant. Endless miles of ombre ocean lightly sprinkled with sail boats lay before us, Barbados never seems to disappoint, sigh.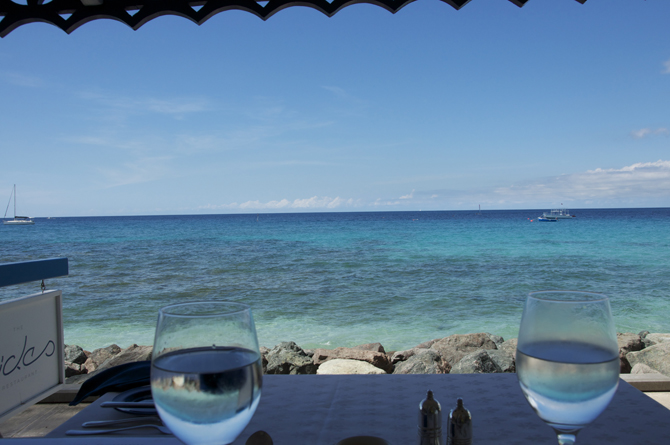 Within moments our waiter, Jules was over to offer us still or sparkling water (we chose tap cause there is nothing wrong with good ol' Bajan water) and wine. We decided on a dry, French Rose - 'Cuvee du Bailly' - and then commenced on the decision of, well, what to eat! The menu at The Tides Barbados is an abundance of pure delight. For Seafood lovers (like ourselves), lets just say you will be in heaven. However, with that being said there is a great selection of meat and vegetarian options available as well.
We decided to do something a little different and first and foremost ordered The Tides Seafood Tower for two.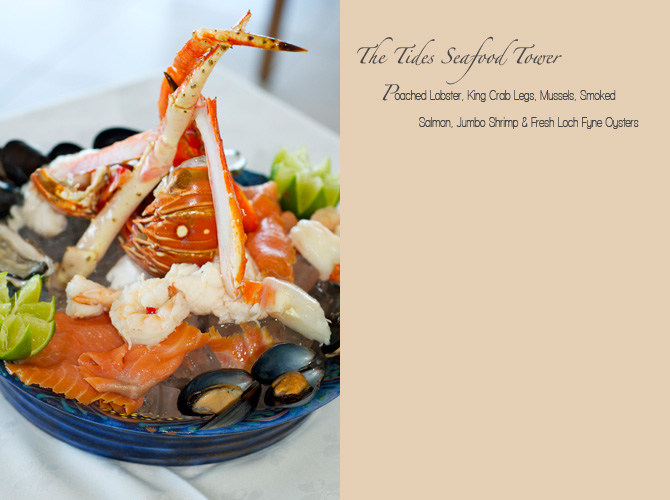 Anticipating its arrival we were pleasantly overwhelmed by its grandeur. Finished with dry ice the platter of seafood literally appeared smoking! Bursting with fresh seafood such as Smoked Salmon, Loch Fyne Oysters, Mussels, King Crab Legs, and Jumbo shrimp we were in our total element. The food was as if it had literally been taken straight out the ocean, it even tasted like the sea. To compliment the fine seafood were three sauces including a spicy tomato salsa, a marie-rose sauce and honey mustard. It all went down perfectly with our crisp and very cold Rose. Clean and simple yet entirely sophisticated The Tides seafood tower set the ideal mood for the ideal afternoon. After-all, first impression does mean everything!
Now although we were not technically starting the meal (we just had a massive tower of fresh fish and seafood) we ordered starters anyway. Our Choice: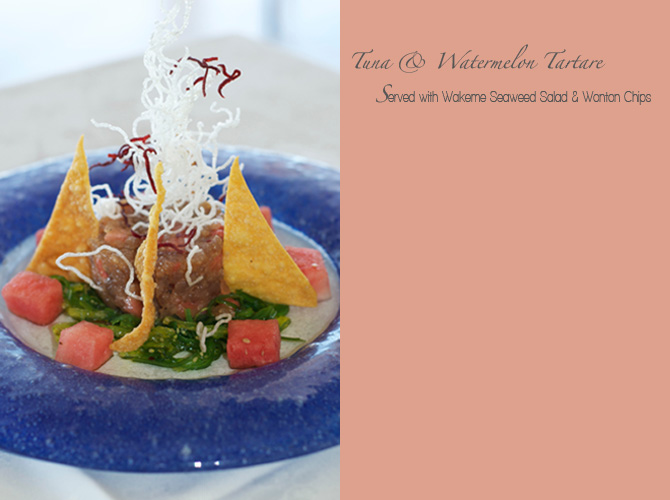 Now, I am a lover of Tuna Tartare so when I noticed the interesting partnership The Tides Restaurant created between watermelon and tuna I was thrilled. The freshness of the watermelon complimented the tuna seamlessly and added a smooth, mellow coolness to the dish; both flavors (tuna and watermelon) being amplified with hints of ginger and sesame seed. The whole dish was then perfectly completed by the crisp texture of the wonton chips offered alongside.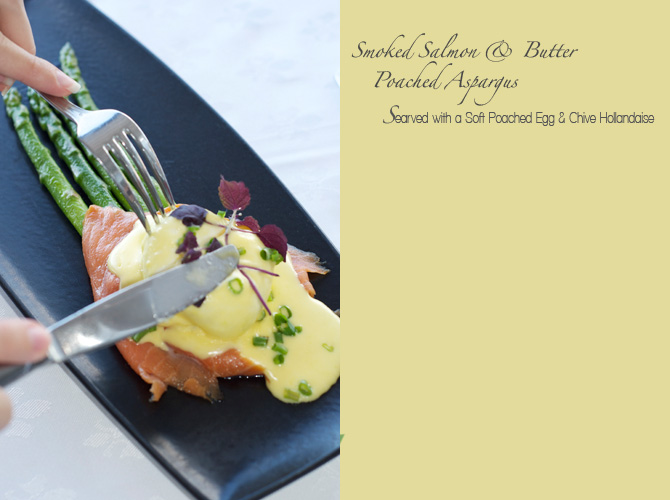 Our other starter, the Smoked Salmon with Buttered Poached Asparagus was not a first choice; in fact being a best seller we were persuaded by Tammie to try it. Since we usually listen to the advice of those who know more we went for it! Good choice that was; the perfectly poached egg went impeccably with the tender and flavorful smoked salmon, both being rounded out by the creamy and slightly seasoned chive hollandaise sauce.  The poached asparagus brought in that element of earthiness and texture that was lacking. Such an attractive combination of flavors and textures.
Now to the main course, we decided upon: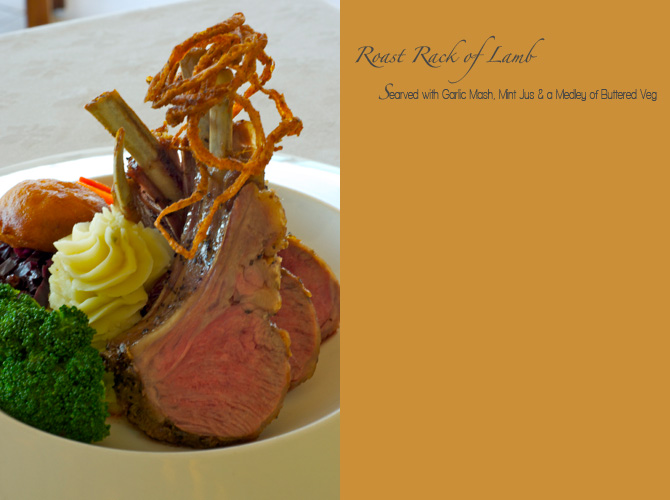 The Lamb, which was roasted medium rare, (yes actually medium rare…not medium or rare or well done) was crusted with a sea salt and black pepper rub which added a fabulous depth of flavor to the meat. The lamb was tender and juicy, just how meat is meant to be eaten. There is nothing more I detest than a lump of Mint Jelly, it is usually too sweet and overpowers the lamb. Luckily, for me this lamb was accompanied by a mint jus that had just the right amount of mint and subtle notes of wine added to the complexity of the flavor. Along with this main came a pumpkin fritter that added a wonderful element of surprise and tied back in with the sweetness of the mint in the jus.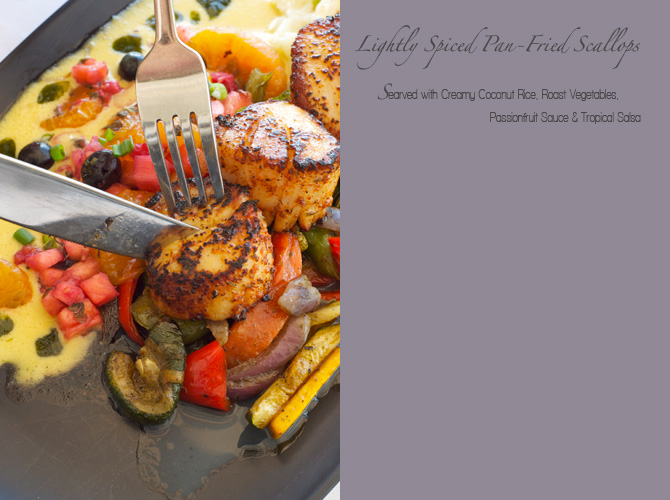 Main course number two was scallops, which you really did not even need a knife to cut through. The Scallops were pan fried in light spices such as cajun and had a beautiful golden brown look to them. The dish was bursting with color and pizzazz (very Calypso-like) and its combination of passion fruit, blueberries, tangerines and other fruits gave it a slight tart yet sweet taste. The tartness of the fruit worked wonders in cutting through the sweetness, which was also echoed in the creamy coconut rice. The tropical salsa really amplified the spices on the scallops yet simultaneously had a cooling effect. Such an exciting balance of complex flavors where going on, so much so, your taste buds were continually at work searching for what pop of essence would appear next.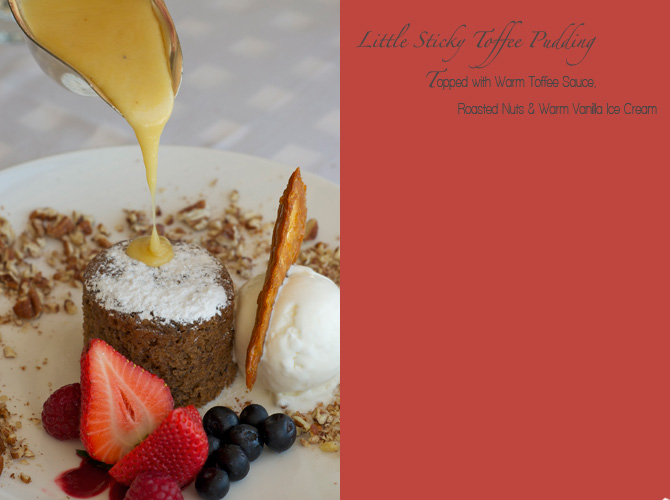 By this time you can just imagine how full Melanie and myself were, but there is always, always room for dessert, especially when it comes to Sticky Toffee Pudding.  The warm toffee over the pudding along with the cold vanilla ice cream was like magic happening every time I helped myself to a forkful. The sweetness was then balanced out effortlessly by the tart flavors of the fresh berries and raspberry coolie. Additionally, the roasted nuts added a rustic woody layer of flavor. It was also ideal that that warm toffee came on the side so you could select how much or how little you wanted based on your preferred level of sweetness.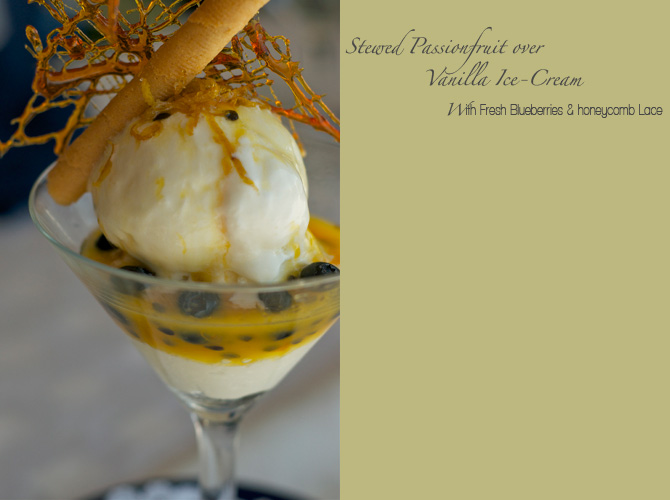 Last but not least was a Vanilla Ice Cream with Stewed Passion-Fruit and Blueberries. The ingredients were simple and straight forward, yet once compiled formed a sophisticated and stylish dessert. The flavors worked wonderfully and the small amount of orange peel that was incorporated really intensified each and every flavor while simultaneously tying them together. This dessert really showcased the power simple ingredients can have.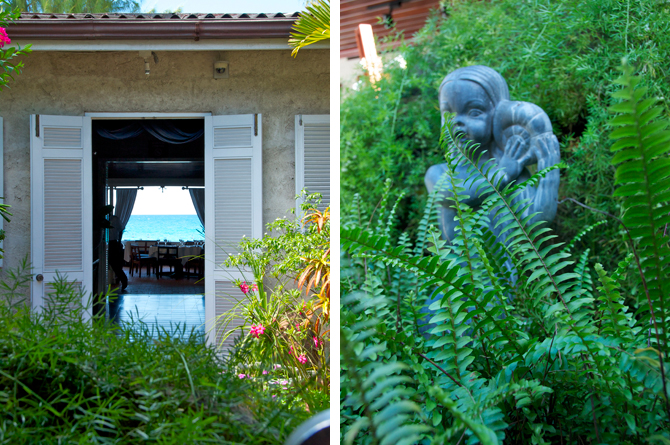 So would we recommend The Tides Restaurant Barbados? Ummm…. Definitely! Just for your information starters run between US $9.00- US $14.00 and main courses run between US $ 24.00 - US $ 30.00 So you can test it for yourself, The Tides Restaurant lunch is open daily from Monday-Sunday; 12.00PM-2.30PM (only during the months of November–May). Want to make a booking? It is as easy as this! Do let us know what you think!