Meet a Bajan: Vanita Comissiong
15th September, 2015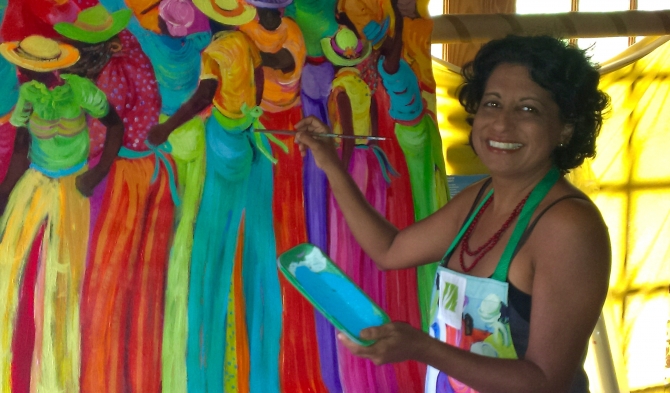 Vanita Gopwani Comissiong is one of the great artists of Barbados and we are honored to feature her on our blog today! Her art is a direct reflection of not only her personality and passion, but also her home country - bright, bubbly and buoyant! Though in her early days Vanita pursued accounting rather than art as a career, she soon discovered where her heart really lay. From then she followed her dreams without looking back and developed an impressive and very unique portfolio that is still in high demand from all edges of the earth. From paintings which were picked up by local and international magazines and calendars to works of art hung in prestigious corporate buildings and houses, Vanita later developed a diverse product line which showcased her popular works of art through multiple media outlets.
Today we have been granted the opportunity to dive a little deeper into this Bajan, Vanita Comissiong.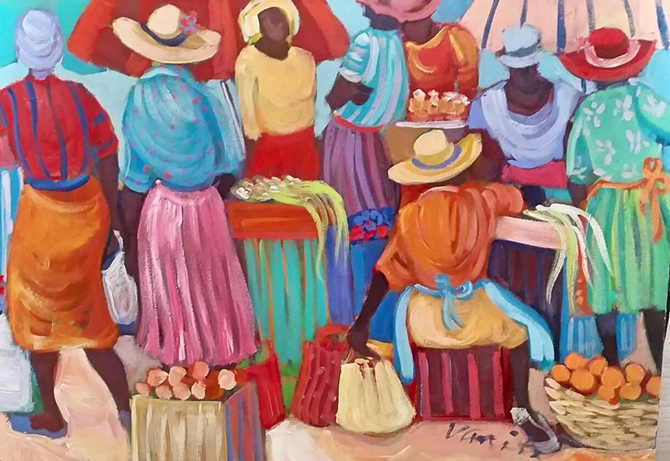 Tell us a little about yourself and why you do what you do? 
I like to think of myself as an extremely positive and social person. I have been blessed with a great family and wonderful life thus far. I adapt to situations easily and never look back. I guess my Hindu upbringing and philosophy has formed my personal road map. The only negative is I am easily bored and restless. However my drive to stay busy and stimulated maybe the catalyst of my many reincarnations from accountant, to retail, to curator then publishing and back into retail and manufacturing. The constant thread however has been the love of art and painting. I am passionate about sports, reading, politics, travel and exercise. I have an unquenching thirst for knowledge. I paint as a meditative process. This conversation with the canvas is calming and rejuvenating mentally ( physically I emerge from the studio bent and crooked with cramp from the hours remaining in one position) and is an intuitive process. I paint broad lines with swaths of colour and out if these subconscious images appear. I never know what will turn up on the canvas. The goal is to create a sense of joy that captures the positive aspect of Barbadian life, markets, celebrations, worship and landscape.
How do you think your art impacts Barbados?
The sentiments conveyed to me regarding my work is always that it makes them happy. The advent of technology has made it possible to print my images on consumer items like bags, scarves, cushions and several other items I have been able to " spread the joy" to many persons that cannot afford originals. It also makes it possible for visitors to buy easily transportable authentic Bajan products made and designed on island. The happy images and bright colors will trigger great memories of their island visit.
Where do you find your inspiration?
Vibrancy and colors of the Caribbean inspire me. Caribbean people talk with their hands and their expressive postures , hands akimbo for example, convey strong messages. Women feature predominately in my work. I truly believe that they have a guiding role in a matriarchal Barbadian society and a great burden rests on their shoulders.
If a visitor wanted to indulge in the ultimate Bajan experience, what are a few things you would suggest for them to do?
As I travel around the island looking for inspiration I always end up in Speightstown. It always reminds me of a film set of old Barbadian fishing village. Women " conversating"; men "liming"; church choir and rum shop banter intermingling with each other. Fish markets, bakery and vegetable trays side by side. An open air supermarket right on the beach. Incredible sensory overload if you are sensitive to it. My favorite spot, I highly recommend it to visitors, and here is one of my favorite eateries, Orange Street Grocers. This would be my secret place. There is so much to do on island, and sometimes the best way to see it is to pack a picnic and a cooler and just get lost. Morgan Lewis, Animal Flower Cave, Harrison's Cave, Cattlewash, Farley Hill and The Crane are great places to visit. Earthworks Pottery where my main gallery is located is a very popular destination for visitors for shopping and lunch at the tree tops cafe. I am the luckiest person in the world to have this hill top location as my studio.
What are you favourite restaurants to dine in in Barbados?
After 33 years of marriage my husband and I have a Friday date night where we go out to a casual restaurant. So being a complete foodie and competent cook myself, I love eating out to get a break from the kitchen. We rotate between Lemongrass (Thai), Mama Mia (Italian), Cafe Sol (Mexican) and Swagg which is a fusion. If entertaining friends or clients; we usually take them to Champers, where my other gallery is located, Tapas, Naru and Scarlett; and with the new kid on the block Buzo will probably be on the list. For those very special occasions we would end up at Zen for sushi or Cin Cin. Sunday lunches are very popular here on island and Animal Flower Cave, Atlantis and Round House are favorites. We are very fortunate here on the island that we have such diverse dining options which I think makes us a more popular tourist destination.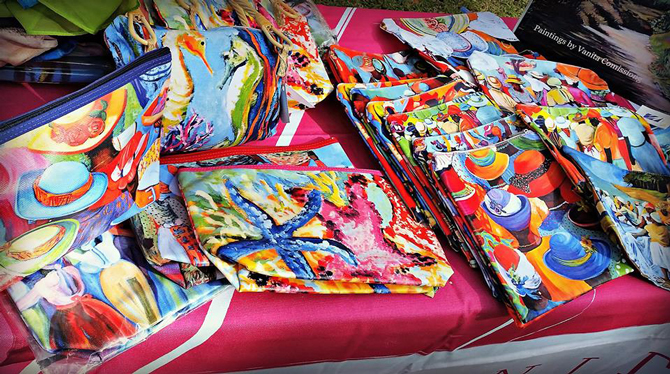 What is your favourite time of year in Barbados and why?
I love the island best around the end of the year. The island is bustling with visitors and family coming home for Christmas. The island is so much cooler and the skies brilliant blue. There is so much to keep me busy that I revel in all the hustle and bustle.
What makes you proud to be a Bajan?
I am a Caribbean person more so than a Barbadian person, however I am proud that for such a flat, small island, positioned off of the island chain we have achieved so much more with such little resources other than sun sea and sand. Which means our positive development has to be placed on our resourceful inhabitants that live peacefully together. Every winter season we become such a cosmopolitan hub of activity and it is at this time I am most proud.