What's Happening: Underwater Clean Up
26th November, 2015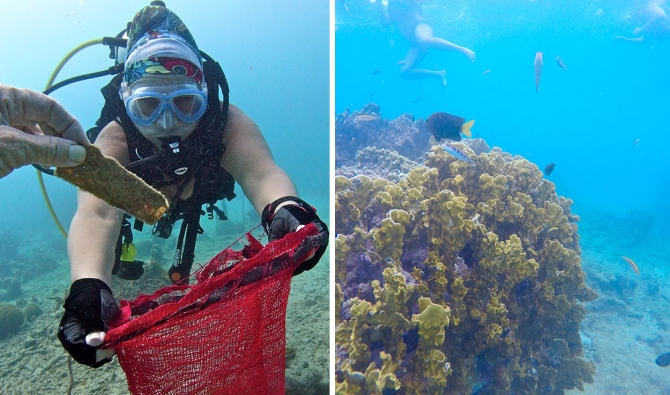 Loop is happy to introduce Scott Clarke, a professional and not to mention passionate diver who lives in Barbados. Scott and his team spent last Sunday collecting trash, no not from the beaches, but from the BOTTOM OF THE OCEAN! Thank you Scott for giving us the low down on this great initiative!
On Sunday 22nd November 2015, while so many were waking to hangovers lingering from the fete the night before, one local group were conducting safety checks on equipment waiting in anticipation to collect garbage – from the bottom of the ocean!
Barbados Divers Association aka "BADASSN" dive every Sunday all year round and this dive was specifically targeted as a "clean up dive / Dive Against Debris" at the Jolly Roger Barges snorkeling & dive site south west of Holetown in 20-35ft of water.  It is a great site for photography with lots of natural light and picking up trash.
Boat service was provided by Hightide Watersports and Nitrox blending by Oceansports Technical Diving owner, operator and dive club member Jim Driscoll.  20-35ft diving does not sound technical so why use Nitrox on a single dive?  One very good reason: REDUCED FATIGUE.  Club member's use nitrox week in and week out and light heartedly admit that they are not getting any younger.  Boggles your mind why the "leading operators" on the island do not supply nitrox?  A question worth asking?  
Look out for upcoming media on this year's Barbados International Lionfish Week & Derby 2015 (sponsored by BADASSN)which can be found at www.barbadoslionfishderby.com and support a local restaurant who is supporting the effort to CLEAN UP OUR REEFS of Lionfish.  If you're not getting in the ocean yourself to be a part of the environmental solution, support those who are and most importantly that is the local fishermen.