What's Happening: Barbados Events April 2016
1st April, 2016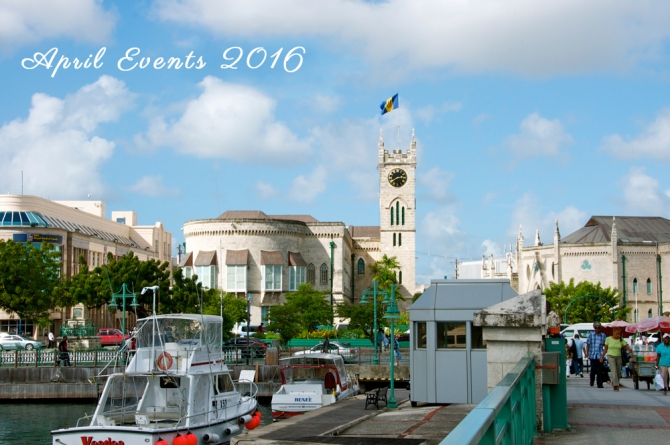 April is soon upon us and there are a number of exciting events that we have to let you know about! So with out further ado here are some happenings in April.
Barbados Event 1. Soroptimists if Jamestown Charity Golf Tournament: This charity event will take place on April 8th on the greens of the Apes Hill Gold Club starting at 1pm; it promises to be an afternoon of fun and spirited sport. The first place prize is a 2016 HYUNDAI TUCSON. A 1-year BBD $20,000 family membership at Apes Hill Club & an original painting by renowned artist Catherine Forter Chee a Tow, will be up for silent auction. Proceeds of this event will go towards the launch of a literacy program for at risk youth and to the upkeep of the community-based Soroptimist Senior Citizens Village. For more information email: sibarbadoscharitygolf@gmail.com
Barbados Event 2. A Tour of the Garrison Historic Area: These educational tours will take place on April 7th, 14th, 21st and 28th from 9am to 12:15 pm starting point George Washington House, The Garrison, St. Michael. The Barbados Garrison Historical Consortium Inc. presents an event for the entire family! Bridgetown and its Historic Garrison have recently been recognized by UNESCO as a World Heritage Site. Dating back to 1650, the site is thought to be home to the most intact and authentic 18th and 19th century British Garrison complex in the world! Tickets are BDS $110 for adults and $80 for children this includes transport to and from your hotel and light refreshments. For reservations call 243-3404
Barbados Event 3. Surfer of the Year Series Championships: This year's event will take place on April 9th at Brandon's Beach, St Michael, starting time 8am and admission is FREE. This action packed event will see the crowning of the Barbados 2016 Surfer of the Year Champions. Participants will be competing under a number of divisions as both young and old show what it takes to be crowned Surfer of the Year!
Barbados Event 4. Barbados Turf Club Horse Racing Season 1: This year's event will take place on April 28th -  National Heroes Day - and begins at 1pm at the Garrison Savannah, St. Michael. This family event will be full of Barbadian flair, as locals come out in number to support their favorite horses. There will be plenty of local booths selling food and merchandise, as well as activities for the kids. The entrance fee to the various stands will vary from BDS $10 to $100 for the day however, admission to the grounds is free.