Top 5: Bajan Buffet Sunday Lunches
20th June, 2014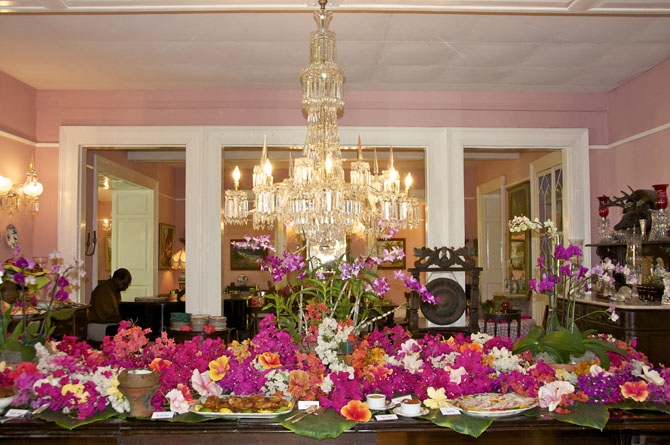 On the arrival to Barbados, you quickly learn a few things. A part of the Bajan culture is a delicious homemade Sunday lunch. This is when locals prepare a variety of Bajan dishes for their entire family. Some popular Bajan meals are macaroni pie, rice and peas, Bajan fried fish, pork or chicken with garnishes of tossed salad or coleslaw.
Here are our top 5 picks of restaurants in the island that would provide you with a delectable, traditional Bajan buffet lunch to satisfy your taste buds!
Bajan Buffet Sunday Lunch Restaurant #1 Atlantis Hotel- Come down to the East side of the island, tucked away amongst the waves and palms in Tent Bay, St. Joseph. The Atlantic side is rugged with a fantastic view of the ocean. Every Sunday and Wednesday at 12:00 pm until 3:00 pm, you can dine either indoors or outdoors and enjoy the succulent mixtures of a traditional Bajan buffet lunch which comprises Peas and Rice, Macaroni Pie, Sweet Potato and Yam Gratin, Flying Fish, Grilled Fish of the Day, Baked Chicken, Suckling Pig, and an Assortment of Salads and for dessert Breadfruit Cheesecake and much more!
Bajan Buffet Sunday Lunch Restaurant #2 Brown Sugar Restaurant- Located on the South coast of Barbados, this restaurant is very popular and is renowned for its tasty Caribbean food and flair. Come and eat on the lush fern patio and explore the cascading water gardens. Brown Sugar has portions of sumptuous local cuisine with their four course "all you can eat" buffet luncheon. You will be mesmerized by the grand display of dishes such as our national dish Cou Cou & Flying Fish, Bajan Rum Burger and Grilled Pepper Chicken; just a few options to tease you! Contact Brown Sugar at 426-7684.
Bajan Buffet Sunday Lunch Restaurant #3 Fisherpond Great House- In the countryside, located in the heart of the island you will find the 350 year old plantation house. Every Sunday, Fisherpond hosts its famous planters buffet lunch with live piano music to make you feel relaxed amongst the tropical flora while fountains and water features complete the charming atmosphere! Contact Fisherpond Great House at 433-1754.
Bajan Buffet Sunday Lunch Restaurant #4 The Cove Restaurant- If you are searching for a great Bajan buffet experience check out The Cove Restaurant located in Cattlewash in the parish of St. Joseph. They have a great view of the Atlantic ocean and of course a wonderful breeze. Enjoy their Sunday Caribbean Buffet with their Crab Backs, Pepper Jelly Fish, Bajan Rum Punch and Homemade Lemonade to leave you craving more. Contact them at 433-9495!
Bajan Buffet Sunday Lunch Restaurant #5 The Beach House Restaurant & Bar – Enjoy the fabulous beachfront dining at the Beach House located on the Platinum Coast of the island in Holetown St. James. This restaurant has a romantic atmosphere and has superb and secluded setting with the view of the breathtakingly ocean. They have a Sunday Buffet you must experience; with the succulent taste and sweet aroma of Bajan homemade dishes, it's enough to make your mouth water! Contact them at 432-1163!