The Start to the Crop Over Season
15th June, 2016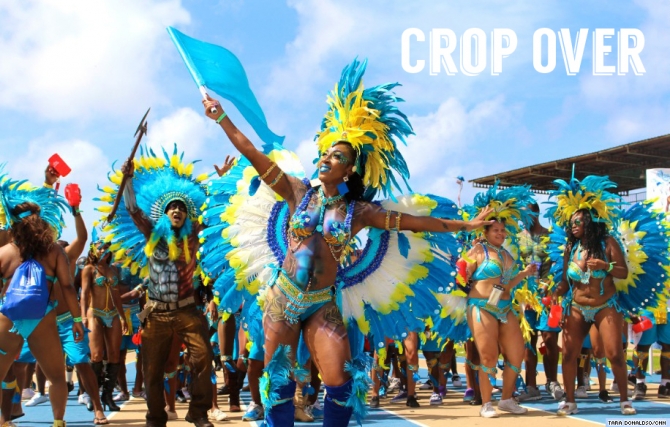 The Caribbean's best summer festival is only a few weeks away and we decided to take a look back at what makes Crop over so special! So grab a snack and get ready to be taken on a wild historic journey of the festival of canes. The first Crop Over festival can be traced back to the early 1780's, a time when Barbados was the world's largest sugar producer. At the end of every sugar harvest season, there was a big celebration to mark the culmination of another successful harvest- hence the name "Crop Over." Through out the following years the festival grew and began to take on the shape of the Crop Over we know and love today.
However, as the sugar cane industry declined in Barbados in the 1940's so did the celebrations and it was during this time that the festival was terminated completely. In 1974 the Barbados Government at that time decided to revive the festival, infusing it with other elements of Barbadian culture and creating the phenomenon which exists today. Now Crop Over is recognized globally and attended by hundreds of persons from around the world. The festival has become the highlight of Barbadian culture and holds an important place in the hearts of thousands worldwide.
A major part of the cultural festivities is the music. Calypso is a specific genre of sound created locally and specifically for the Crop Over season. Many artists or Calypsonians as they are called, produce music for the annual festivities and participate in events through out the season hoping to win the well sought after Crop Over titles. These titles include: The Party Monarch, Sweet Soca Monarch, Road March Monarch and Pic-O-De-Crop Monarch among others.
The entire festival culminates with a parade of colours, as revelers jump and dance along the streets in traditional festive costumes to the popular calypso sounds of the season. Costume designers compete for the coveted Designer of the Year prize with their elaborate designs and bands. This event is known as Grand Kadooment and is held on the first Monday of August every year. Locals and visitors come together in true ecstasy celebrating life and togetherness. It's a grand end to a grand season!