Restaurant Review: The Tides Lunch special
24th October, 2016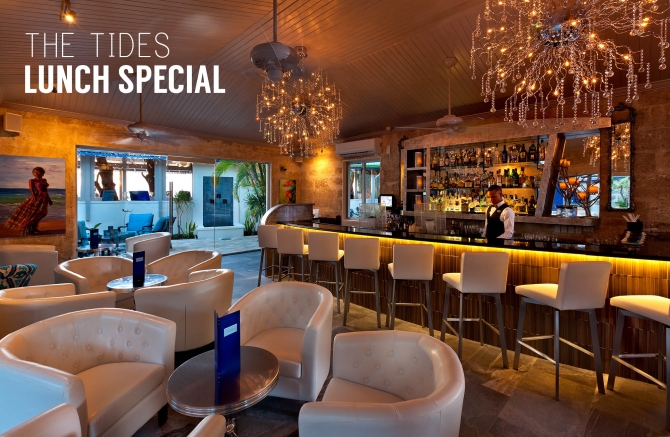 Escape into a dining experience like no other at one of Barbados' best! On Wednesday afternoon we had the great pleasure of enjoying an amazing lunch at the Tides Restaurant on the West coast of the island. This fantastic restaurant is located right along the water's edge, with the beautiful rhythmic waves of the Caribbean ocean gently tempting those nearby. I could immediately tell there was a lot of excitement in store! The restaurants' entire ambiance was truly breath taking, our glass encased air conditioned dining area allowed us to enjoy the beauty of the natural surroundings without the worry of the troublesome midday heat. We were ready to dive right into their exquisite 2 course lunch for the amazing price of just $72.00 BBD!
We started our dining experience off with delicious kiwi & rosemary martinis mixed to perfection. Our starters came soon after and we grinned in admiration at the fantastic presentation and tantalizing aroma of our mahi-mahi salmon and prawn fishcakes and homemade potato gnocchi pasta! The Mahi-Mahi was served with a herb salad, spiced pineapple salsa and topped with a passion fruit buerre blanc. The Potato Gnocchi was tossed with Slow Braised Beef, caramelized onions, english peas and finished with shaved parmesan. Our starters were an exciting explosion of colour and flavour and got us both extremely excited for our main course! What more could The Tides Restaurant have in store for us? It turns out a whole lot more!
Our main courses arrived soon after and we realized we were not prepared for the carnival of flavours we were about to experience! Our 12-hour Braised Beef Short Rib and Chicken Thai Curry exceeded our imagination! The braised beef was marinated in red wine, served with caramelized shallots, roast garlic, glazed carrots and whole grain mustard mash potato. The chicken thai curry was served with coconut milk, chili, lime, lemongrass and basmati rice finished with fresh coconut and coriander!
It was a fantastic experience from start to finish! We can't wait to return to enjoy this amazing 2 course lunch special again!