Missing you......Barbados: Tamara Vaughan
17th August, 2012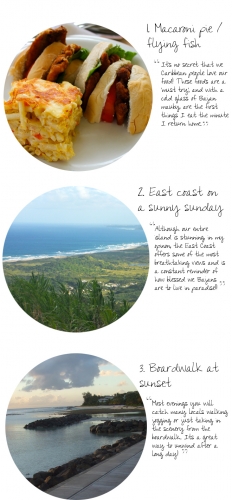 So we are back with our second segment of "Missing you...Barbados". Today we have the pleasure of introducing Tamara Vaughan, a student in England who wants to share what she misses most about Barbados. Take it away Tamara!
Though born in England, my family relocated to Barbados (where my father's from) when I was still a baby. At 16, I moved back to England to complete my A-Levels and University education. After 7 years of living in England and developing a HUGE travel bug, I can honestly say that I feel blessed beyond belief to be from such an incredible place.
There's a popular Bajan saying: "no matter where I roam, Barbados will always be my home", nothing is truer. With that said, above is the list of 3 things I miss from home. I hope you enjoy your stay here and enjoy all that Barbados has to offer.