Meet a Bajan: Gloria
23rd September, 2013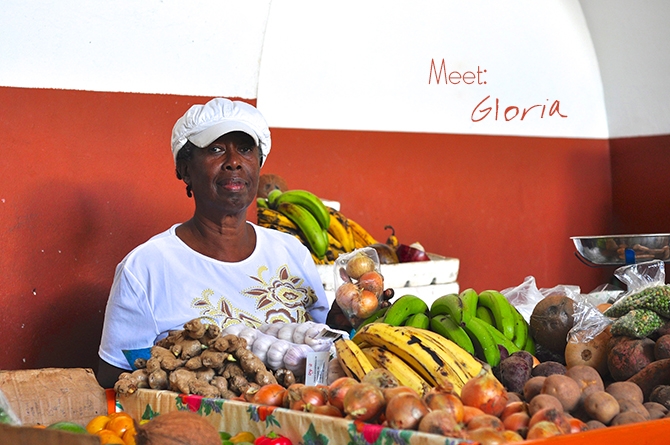 So I made my way into Barbados' capital, Bridgetown, today, to get a glimpse of Cheapside Market. Cheapside Market is a huge market where many vendors sell fresh, local produce on the ground floor, and handmade crafts and other goods on the top floor. I stuck to the ground floor, taking in all the scents of the fruit, vegetables, spices and everything else! I chatted with a couple of vendors who were contently sitting behind their stalls, waiting for the day's customers.
I made friends with a lady named Gloria, who is from St. John. It turned out that Gloria and her family knew and worked for my grandfather's family many years ago! What a small world! Gloria says she loves what she does – she leaves home at 5.30 on a morning and ventures out to get her produce and then goes to set up her stall at Cheapside Market. The market was pretty quiet, and Gloria says she thinks it may be because of the downturn of the economy, or it could be that maybe it is because this is the time of year when parents have to buy new school supplies and uniforms for their children so they may not get to come to Cheapside as often as they would like. While waiting for customers to buy her produce, Gloria sits quietly and reads scripture from the Bible, so she can always be up-to-date with what her church services are about. Gloria says that she thinks Barbados would definitely benefit if more people grew their own produce, and more people sold local produce instead of importing it – and I agree!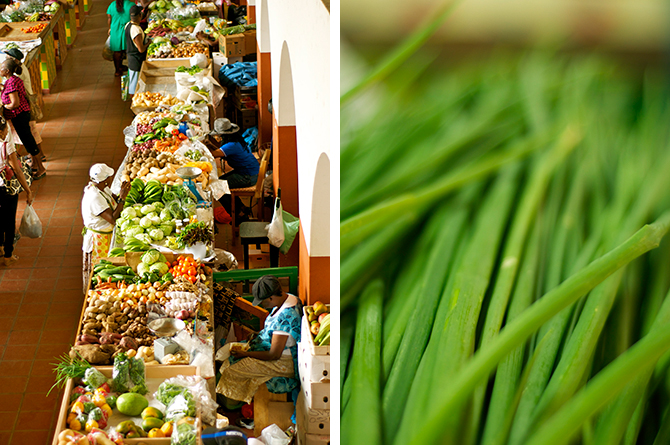 When I asked Gloria what she thought a tourist would enjoy doing if they wanted to experience a real Bajan experience, she said that she would invite them to The Souse Factory, in St. John, near to where she lives. She said that getting pudding & souse on a Saturday and having a few drinks is a great way to experience Bajan culture. Gloria said that besides selling in the market, she really enjoys going to church – many of the old time Bajan folk are deeply devoted and committed to their churches and spend a lot of their time at mass and at different events hosted by their own church. I asked Gloria if she had a favourite time of year in Barbados, and while she doesn't have a particular favourite time of the year, she said that the Crop Over season is probably her least favourite, simply because of the masquerading, which she does not see as enjoyment.
Gloria is a true Bajan – she has never even travelled outside of the island so has not experienced any other cultures. Gloria said she is proud to be a Bajan so far! She is proud of the morals and values that most Bajans have. She said her grandparents helped to build this country and what it is today, and she is not suffering – she is working, and happy and healthy. Gloria also gave me really good advice! She said that if you work for $1.00, that you need to make sure and save $0.10 or $0.50 or whatever you can, and that will help you in the long run – that even if your friend or neighbor makes more than you, you need to save what you can and you will be happy! And how true it is!
I really enjoyed meeting Gloria and chatting to her, and getting a real taste of what she does!