Meet a Bajan: Annalee Davis
17th July, 2013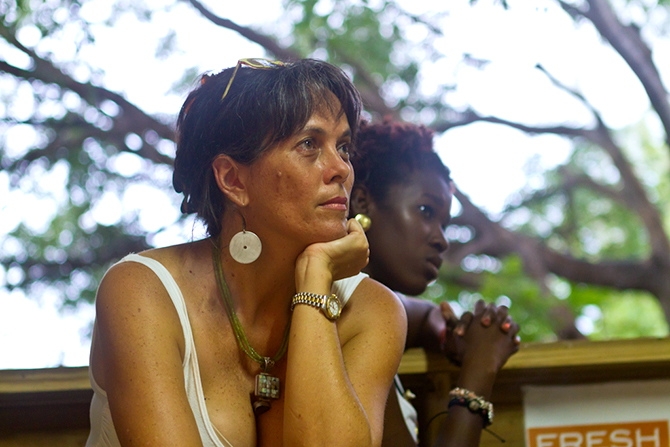 We went to the Milking Parlour, Annalee Davis' studio, which is located in St. George, in absolute serenity and seclusion. It is peaceful and beautiful, and we got to chat with the Bajan artist and Founding Director of The Fresh Milk Art Platform Inc, to find out what she does and what it's all about! Read our interview with Annalee below!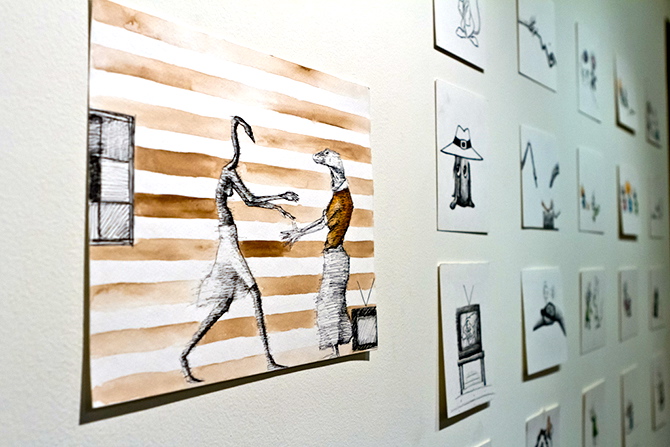 Loop Barbados: What do you do?
Annalee: I work as a visual artist, I teach part time at Barbados Community College (BCC), and I'm the Founding Director of The Fresh Milk Art Platform Inc, which is a non-profit that we set up two years ago in an effort to support young creatives in Barbados; in part because a lot of our graduates from BCC stop making work within a year of graduating.  So, we have the government investing in a tertiary level program and  issuing BFA (Bachelor of Fine Arts) Degrees, but there's no thought into what happens to the graduates afterwards, and within a year almost all of them stop making work, because they are coming largely from backgrounds where they have to generate income and there's no healthy cultural industry where they can function within, and so they get jobs – waiting tables, or tending bars or selling clothes or whatever, and it's not what they want to do, and it's a waste of five years of the state paying people to teach and develop a degree program when its ending up with people not functioning within that industry. So Fresh Milk was really set up, because a couple years ago, we had just a beautiful group of students graduating – ten lovely students, with a lot of potential – and I got nervous that they would stop making work, and I thought, "well what can we do to support their practice, and really develop Fresh Milk as a way to nurture talent?"
Loop: How did you come up with the name "Fresh Milk?"
Annalee: So the idea around the naming of Fresh Milk is that we're located on a dairy, so that's part of it, and my studio is called the Milking Parlor Studio. But it's also connected to the idea that women turn their blood into milk to nurture their young, and Fresh Milk is a nurturing space for young talent, and that's where the name came from.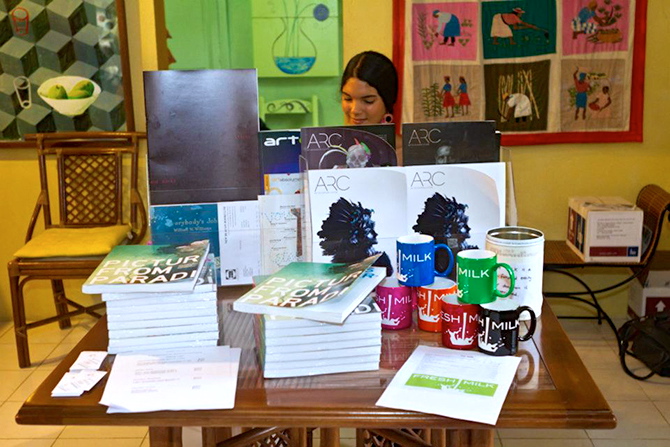 Loop: How does Fresh Milk impact on Barbados?
Annalee: I think that it impacts on Barbados because since we've existed in the last two years, students that have graduated within the last two years are actually continuing to produce work; and we have students that are going on residencies, here at Fresh Milk and also Katherine Kennedy just went on a residency in Vermont because we recommended her; Versia just went another one in Vermont; we're sending Mark King in to do a residency in Aruba in September; I just went into Brazil and presented 30 portfolios of artists from Barbados and the Caribbean and we're hoping to send in a number of Barbadian artists and writers to do two-month residencies there; we are being looked at by people all over the world, because we have an online presence; we're offering international residency opportunities so people from other countries can come in and do a residency in Barbados, and that's great because it forces our artists to interact with international artists and maybe that might lead to an opportunity; we have a gallery in Scotland called the David Dale Gallery that's invited Fresh Milk to come out and do a project with them in July of 2014 because they're hosting The Commonwealth Games and they've selected us as one of six spaces in The Commonwealth around the world to come and do a project -  so we're going to do that with an entity from Australia, Canada, Cyprus, Pakistan, India and Barbados. So we have so many projects that we're doing! We have set up a small reading room called The Colleen Lewis Reading Room and we've just got over a thousand books in there that are freely accessible for people to come and use as research and that whole bibliography exists online so you can go online and see everything that's there, whether or not it's the kind of Reading Room you want to come and look at. We are very grateful that we've just got funding from The Maria Holder Memorial Trust to support the expansion of the Reading Room by acquiring more books and trying to activate the Reading Room by doing a project with three secondary schools where we would engage CXC students to come and use the reading room. We've also got some funding from the Maria Holder Memorial Trust to set up a virtual map, and that virtual map will be on our website and it'll showcase the entire Caribbean and all of the informal and formal spaces that exist since the 19th Century – so from the mid-1800s, when museums and trusts started to exist, right up until The Contemporary Time, which would include informal spaces, formal spaces, national galleries, commercial galleries, and publications about the arts. What else are we doing? We recently hosted a group of students from Northern Kentucky University and created a platform around performance arts  so we brought a number of our artists out to speak about their performance work; we presented a number of our young artists to visiting delegates from the visual arts industry in Brazil, and that went very well. So yeah! I think that we are impacting on the contemporary art scene in Barbados because we are the only place for contemporary art practice of a particular kind of work that's being produced, and we're a platform for excellence and we're particularly focused on young people. Oh! Also, because of our relationship with The Instituto Buena Bista in Curacao, we have two artists going in to do residencies in September – Versia Harris and Nick Whittle. One of the things that we want to start thinking about is that we've just developed a collection for a young Caribbean business man of emerging Barbadian talent, so what we want to think about is "how can we develop collections for average Barbadian people?" So it's not just people that are multi-millionaires, but just an average middle-class person who wants to think about developing an art collection, and Fresh Milk can offer that service - so if you have $500 or $2000 and you want to begin thinking about collecting work, we have our hand on the pulse of young people that are producing work, so that you don't just go to the theatre or galleries when you go to New York or London, but you also think about "How can I support my creative practitioners here? Maybe I can begin to develop a really small collection." So, that's kind of "in a nutshell," I think, what we're doing.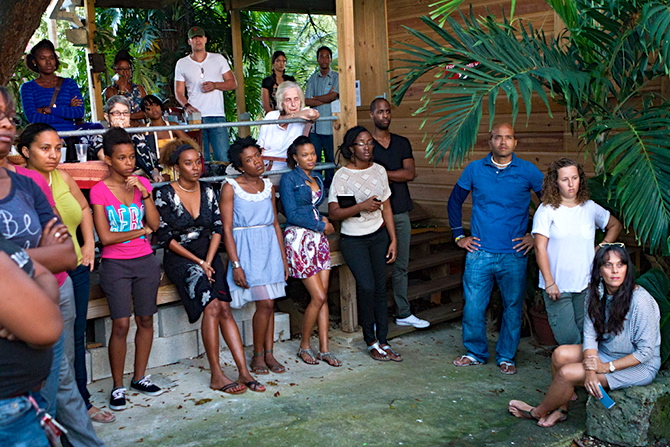 Loop: What is your most meaningful project, out of all of those?
Annalee: We got a small grant from the Art and Sport Promotion Fund, which comes through the Ministry of Finance, and that grant was supporting four local resident artists. With that grant, we actually paid the artists a stipend of $1,000 to come out for four weeks and produce a body of work. So we had: Versia Harris, who's an animation artist, doing beautiful drawings and turning them into animations; Mark King, who's a photographer; Matthew Kupakwashe Murrell, who's a playwright; and in September, we'll have a collaborative project between Skylark, who's a filmmaker and Adrian Greene, who's a spoken word artist. I think those are important because it's the first time that Barbados has seen the support of local residencies, which means that we're investing in our own creative people, and we're giving them a small stipend to be able to afford, in some small way, to come out and produce a body of work. During that process, they have to reflect on their own four weeks, so every week they enter a blog that speaks about what they've done during the week, and that becomes publicly available to Barbados and the wider Caribbean and the world, and then at the end, we create a platform for them to share their work with a local audience. So to me, I think that's really important because it shows that we believe in the work of local practitioners and that we're willing to invest in their practice, and we want them to continue producing work. And why is that important? Because we don't want our best people to keep migrating. We want to invest in the industry, and encourage people to stay, so I think that's pretty important.
Loop: Don't you wish this kind of thing was around when you were done school?
Annalee: Oh, for sure! Yeah, definitely.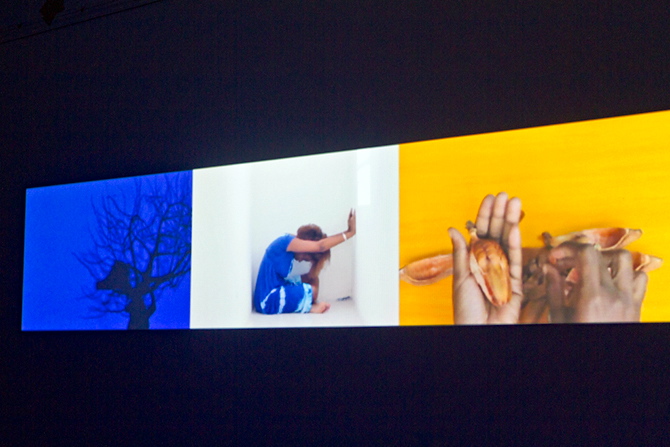 Loop: Well all of that gives a pretty good idea of the inspiration of Fresh Milk! How important do you think art is to Barbadian culture?
Annalee: I think it's critical. Lloyd Best, a thinker out of Trinidad, speaks about how one of the most important things for a Caribbean people to do is to found a community and create a home. I think that what our artists do, is reflect on who we are as Barbadians and as human beings and give that information back to us, so instead of just consuming culture, it is important that we create culture; so that we produce work, and we're not just passively sucking in what we listen to on the radio, or what we watch on TV or what we see in the theatre – we're actually producing critical, cultural products that speak about our own experience as human beings of the world. I think it's really important, and to that end, I would say that it's important that everything we do as creative people does not necessarily have to become a product that can be sold – that there is value in creating knowledge and having ideas and in a global recession, we need creative thinkers more than ever before to be able to think outside of the box. I would say, yes, it really is critical.
Loop: Great! So more onto the "for the tourists" questions – if a visitor wanted to indulge in the ultimate Bajan experience, what might you suggest they do?
Annalee: I think going to see how sugar is processed as Andrew's Factory is a really cool thing to do – it has something that has been happening for over 300 years and there are two factories left, so I think that's a pretty amazing thing to do. I think the Hike Barbados trails that were initiated by Collin Hudson years ago are wonderful ways to meet Barbadians and visitors, and there are walks at different speeds or capacities, so you can go on a slow walk which has a lot of information. When I had been on a few with Collin, he would give you information about the history, the geology, the agriculture, the society, our architecture – everything! So those are great tours. And, well, I think the Crane beach is probably the most beautiful beach on the planet of the earth, so that, I would say, is a must.
Loop: Do you have a favourite restaurant in Barbados?
Annalee: Well I love going to Just Grillin', because it's consistent and affordable and quite healthy. I also like Naru. The service is always really consistently good, and the staff are always extremely welcoming. It's a nice environment, it's right on the Boardwalk, it's not over-the-top expensive… I go there often.
Loop: Do you have a favourite thing to do – day or night – that you like to do in Barbados?
Annalee: I love to go in the sea and dunk my head in the ocean on a Sunday so I can face the week – there is nothing like salt water! I love the Crane, and I love Miami Beach!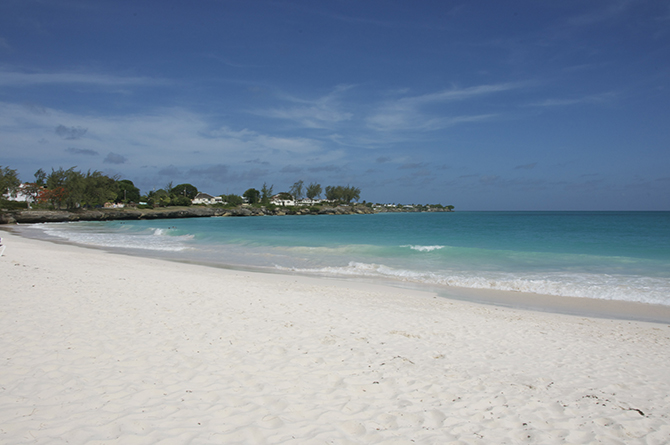 Loop: Do you have a favourite time of year in Barbados?
Annalee: My favourite time of year is in November, when you go across the St. George valley and you can see all the cane arrows coming out, and it's just a beautiful sea of silver glistening in the sun, and it means that Christmas is coming and that's what I love. It's beautiful.
Loop: Do you know any "secret spots" in Barbados?
Annalee: I just found one yesterday! It's a church from 1648, or the remains of a chapel. It's located near to Joe's River in St. Joseph and there are a couple of tombstones on the floor of the chapel from as early as 1648, and it's an absolutely stunning structure and is one that should be renovated, so that people can know about it and enjoy seeing it.
Loop: What makes you proud to be Bajan?
Annalee: I'm deeply committed to, and connected to this land and to these people. I just love this place and have dedicated my life to it and will always be here.
We really enjoyed speaking with Annalee, in the naturally beautiful space of her studio, the Milking Parlour. The chat with Annalee gave us a great insight into what Fresh Milk does and how it benefits the young artists of Barbados! Thanks, Annalee!