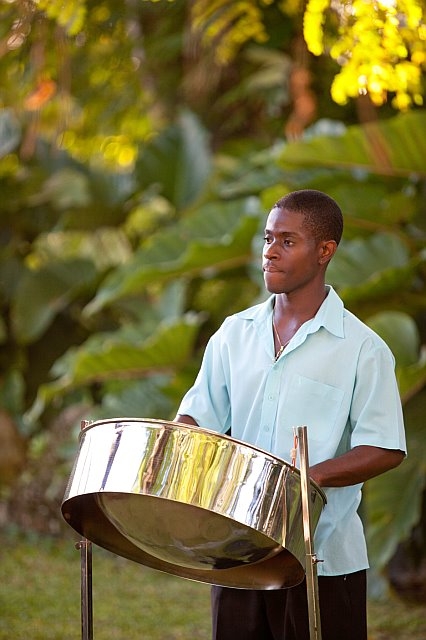 Music has always played a vital role in the history and culture of Barbados. Today this role continues with more enthusiasm and support than ever before. Bringing people together in one place to express their feelings and emotions, local musicians provide Barbadians and tourists alike with a form of music known as Calypso or Soca. The music of Barbados, like its culture, is a synthetic blend of chiefly African and British elements that is displayed through song types and styles, dances, instrumentation, and aesthetic principles. The music is composed of western classical, folk, religious and popular music. Additionally, Barbados is one of the few hubs for Caribbean jazz.
A famous type of musical band which is synonymous with Barbados is the Tuk Band. This band is a Bajan musical ensemble which consists of a bow-fiddle or pennywhistle flute, kittle triangle and a snare, along with a double-headed bass drum, that combine to create a distinct Barbadian mixture of African and local rhythms. The kittle and bass drum provide the rhythm while the flute provides the melody. These drums are made from cured goat and sheep skin and are very light allowing the band members to easily transport them and carry them around whilst playing. Tuk bands are usually played for special occassions such as royalty or coronations and are accompanied by Barbados' symbloic characters- shaggy bears, Mother Sally and green monkeys.
Barbadian entertainment is vibrant and energetic and there are many entertainment shows on the island which showcase our wonderful calypso music and entertainers. These extravangant shows consist of an array of entertainment such as fire eaters, stilt walkers, calypso dancers, limbo dancers, green monkeys and shaggy bears to name a few. If you are interested in experiencing a Bajan entertainment show, some good options are Harbour Lights Beach Extravaganza Show or The Plantation Bajan Roots and Rhythm Show.