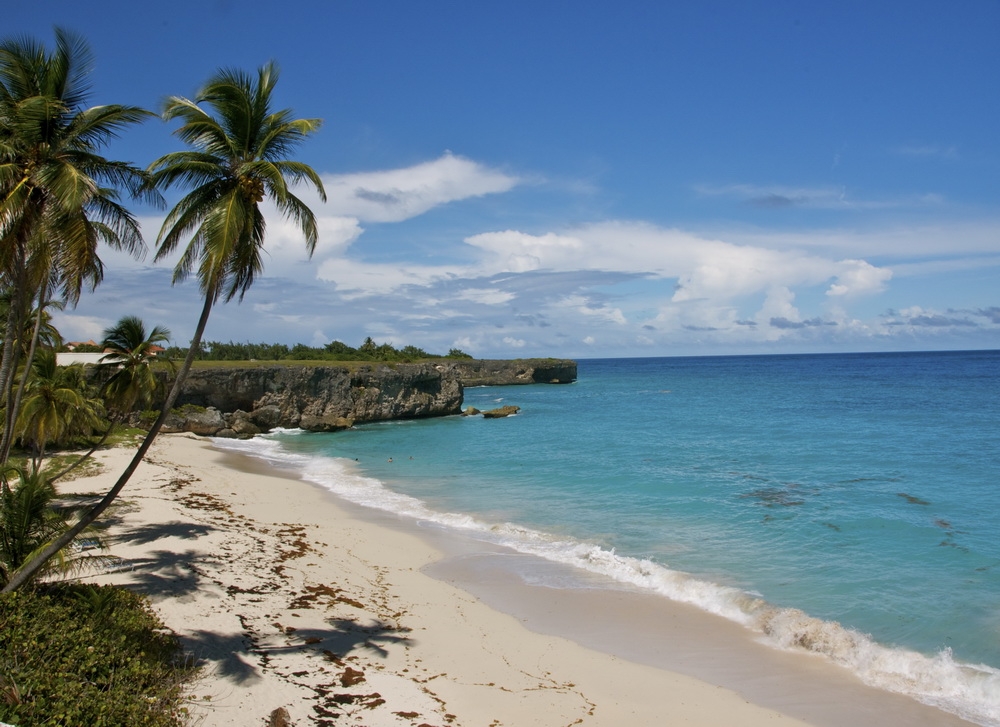 Barbados, "Bim", "Bimshire" or "Da Rock", the most easterly of the Caribbean islands, is one of the most astonishing tropical destinations with its eclectic blend of guests, trendy hotels and shops, captivating culture and secluded beaches. This island, once known for its Muscovado sugar, is now predominantly recognized for its simple yet vibrant lifestyle. From the Crop Over Festival to cou-cou and flying fish to rum punch, this island, like no other island, is one that you must visit at least once in your lifetime. Take it from us; your single visit will be automatically transformed into several.
For the most part tropical islands have beaches, however where Barbados differs is what lies behind the sun, sea and sand. For an island of its size and age Barbados is a lively and intoxicating profusion of culture and atmosphere which sure packs in a lot: Stunning landscapes, coral reefs, endless beaches, rugged cliffs, luminous caves, unique cuisines, enthralling histories and some of the Caribbean's best attractions.  Loop Barbados is here to give you some guidance and recommendations on the best activities, adventures and entertainment while you are here in the ultimate Tropical Paradise.
Barbados By Day
Barbados is, more than anything, a widely diverse eco-system with multiple personalities. She may be young, however, exhibits many distinct characteristics that you can be part of. Whether you are in the mood for an adventure like hiking through one of nature's most proud masteries, or soothing your soul on one of the most lavish beaches in the world Barbados has it all. 
The Sea voyager
One of Barbados's most unique features is the beautiful and never ending seas that lap us. Relax and soak up the sun at some of the best and most magical beaches in the world like the Crane, Bottom Bay and Miami Beach. Sail along the golden coast on one of Barbados' fine Catamarans, snorkeling with turtles and discovering old treasures in shipwrecks as you go along. If you prefer to cruise along the seas at your own pace try the new soft adventure of Stand Up Paddle. Or if you rather get a little deeper and really come up close and personal with the underwater world of Barbados there are many well-respected Scuba Divers eager to take you along their journey. On the other hand, if you are an adventure enthusiast head on over to the East coast to surf the popular and highly raved about Soupbowl, or find your self on the South east coast at Silver Rock to kite surf or windsurf. 
The Land Explorer
It is now time to head inland and discover what Barbados is built upon or rather constituted of - a rolling terrain of limestone hills, lush greenery and limitless sugar cane fields. One of the best ways to see Barbados on your own pace is to rent a car, acquire a map and drive. Sights like cherry Tree Hill, Morgan Lewis windmill, Codrington College, Bathsheba, Hackletons Cliff, Cove Bay, and Little Bay are small pieces of tropical eye candy that not many get the pleasure of viewing. If you prefer more of a toured guide with a little adventure attached to it some options may include Adventure Land, Island Safari or Segway Barbados. Or if you happen to be in search of real adventure the eco Adventure tour at Harrisons Cave is highly recommended along with the Zip Lining experience.
The Cultural Seeker
Now we have explored both water and land let us dive into where we came from – our roots. Having one of the most interesting historical cultures there are many ways in which you can really discover our past. Scattered among the lush greenery of the country are the beguiling survivors of our colonial past. Vast plantations such as St. Nicholas abbey, Fisherpond Great House and Sunbury Great house stand in magnificence, however their present day beauty and tranquility act as a mere cloak concealing the brutality of their past. Museums such as the Barbados Museum and Historical society and George Washington House document this gripping history along with many other interesting cultural artifacts.
Barbados By Night
From the sky-high coal pot fires of Oistins fish fry to the esteemed cocktail lounges on the West coast, Barbados has the perfect blend for you, no matter your panache.
The Connoisseur
There is no better way to access Barbados' cornucopia of cultures than through our cuisine. From some of the most highly recognized restaurants specializing in international cuisine to the man on the side of the road focusing on perfecting the Barbadian fare, Barbados is a gastronomic highway.  Just like our history, our food is our own and by night you have many opportunities to stamp your palate's passport. If you are looking for more of a rooted culinary experience, places like Oistin's fish fry in Christ Church or Moon Town in St. Lucy are just up your ally. Freshly caught fish are fried or grilled and complimented by a wide selection of authentic starches including sweet potato pie, macaroni pie, steamed cassava, breadfruit, peas n' rice etc. Now it has come time to treat yourself to a more exalted meal in one of our world famous, award winning restaurants like The Cliff or Cin Cin. Culinary masterminds create works of edible art while you sit back and take in the extravagant atmosphere.  So whichever you decide – the roots or the ravish - there is no doubt the cuisine of Barbados will illuminate your tropical Barbadian experience.
The Dancing Queen
Let's face it, Bajans love to dance, they even have their very own little shimmy - 'wuk-up'; so it is not surprising that there are many places you can go to 'boogie' here in Barbados. For a more authentic Barbadian dance experience, hotspots like Harbour lights and The Plantation put on dance shows consisting of stilt dancers, Mother Sally and limbo dancers; and by the end of the night you too are moving like a true Bajan. If you want a more low-key dance experience there is the option of St. Lawrence Gap (or more commonly know as The Gap) or you can check out the well-regarded West Coast and try out hotspots like Priva and Lexy's Piano Bar.
The Bar hoper
Ready to 'enjoy a few'? You have chosen the right destination with upwards of 1500 rumshops and 1000 bars.  An integral part of Bajan Culture with roots that date back some 300 years, this little piece of paradise is laden with saloons. From the bar-lined street of St. Lawrence Gap to the exotic rum shops dotting the country to the fashion forward lounges on the West Coast and Second Street, Barbados has a profusion of it all.
So now what are you waiting for? Rocked by reggae, rolled by diversity and lapped by prismatic waters, Barbados is, after all, where life was perfected.